A channel crossing is the first step for many sailors on their road to an extended passage. Since sailing to Cherbourg is likely to take around 14 hours from Portsmouth, a good 6-8 hours of that is likely to be out of sight of land.
Here's how I approach planning and navigating the English Channel, using recent crossings as real examples. In a later article, I plan to review how a crossing worked in reality and how my passage plan from Portsmouth to Cherbourg worked out.
Deciding on a departure time
In the case of sailing to Cherbourg which is an all weather, all states of tide port, this is a combination of what time you want to arrive (for dinner or to arrive at dusk) and also taking advantage of tidal assistance to help swing you around the island. It's also worth allowing for a couple of hours for unanticipated delays, or at least not being overly ambitious on anticipated boat speed. For other destinations such as the Channel Islands then a tidal gate is likely to impose a much stricter arrival window.
Returning home to Portsmouth, I wanted to avoid the strong ebb out of the harbour which started at 0915 – easy to check in the Solent Tidal Stream Atlas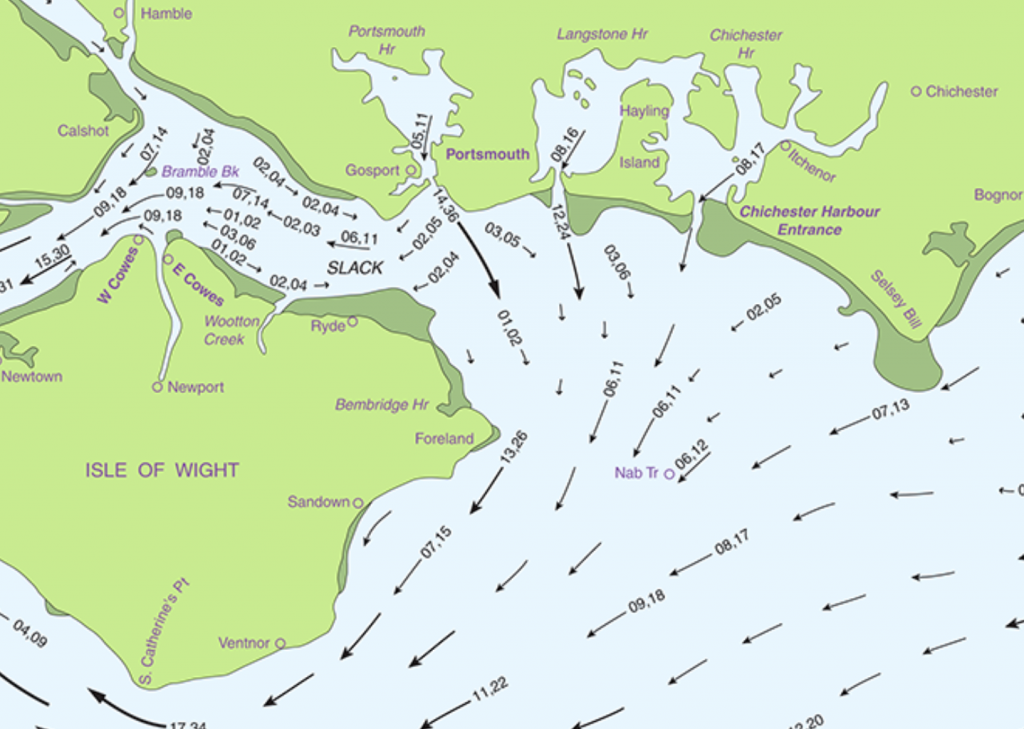 Planned arrival 0915
1 hour Bembridge ECM to Portsmouth
13 hours (65 miles at 5 knots) from Cherbourg
Departure ideally 1915
Determining Course to Steer
Much has been written about the advantages of plotting a single course to steer for the entire crossing rather than two involving a mid-channel waypoint. Suffice to say, it will be a far quicker crossing if you do the former – your ground track will swing you east or west away with the tide and then back again.
You will need to consult a Channel tidal stream atlas in order to determine the hourly, and therefore total, tidal drift anticipated. The classic reference is the Admiralty Tidal Stream Atlas for the English Channel but I much prefer Reeve-Fowkes Yachtsman's Manual of Tides. The first third of this is a superbly written text on how to use the tides to your advantage as a yachtsman;  the remainder is the atlas itself. The real advantages to this method are built in tables avoiding the necessity to use the tedious Computation of Rates graph to account for tidal range, together with the fact that everything is referenced to HW Cherbourg. During the summer, Cherbourg tidal tables are the same as British Summer Time so you can just leave your ship time alone for your trip.
The process is as follows
First look up high water Cherbourg in the almanac – in this case 5.5m
For each hour in question, turn to the atlas table and find your position at that estimated time after departure. It's a little tedious but essentially mark of 4/13ths of the distance across the channel for the fourth hour. Although I've marked it here, you only need to make a note of the tidal rate at that point. Here it's pretty simple – 2.8kts – but you might need to interpolate in other examples.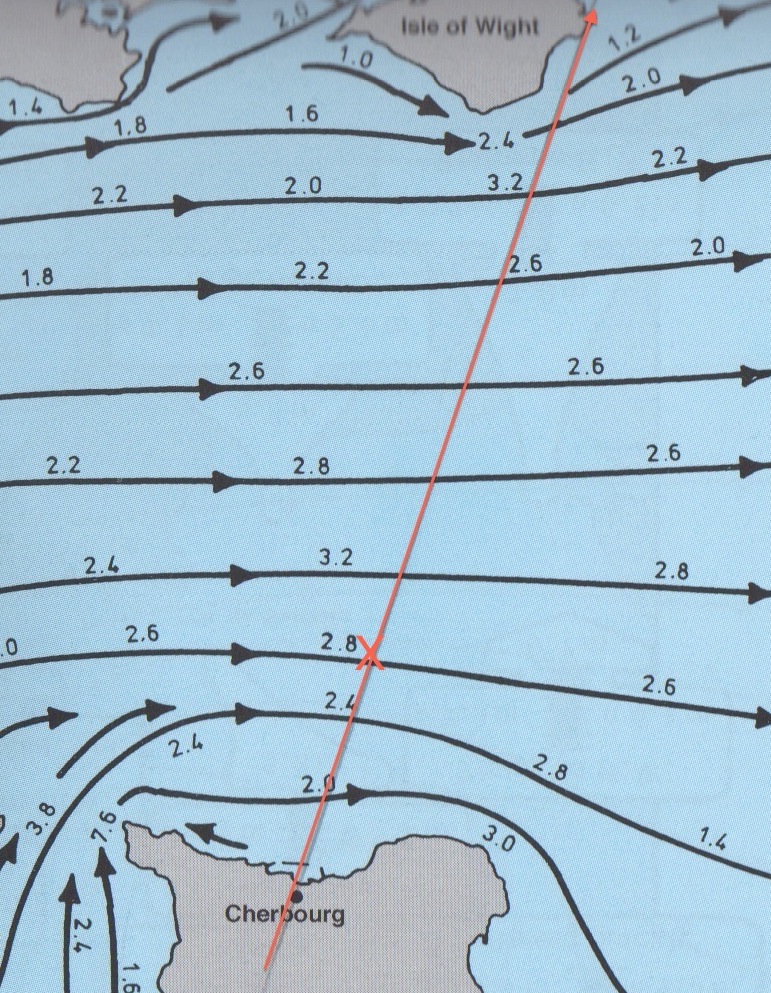 Next you need to adjust for the range (since we are somewhere between neaps and springs) to find your tidal drift for that hour

Firstly, mark off HW Cherbourg for that day – 5.5m
Second, find the rate from your plot above in the left hand column of the table – 2.8kts
Then follow across to the adjusted rate by following down from the HW line above – 2.6kts
 You need to repeat this for each hour of your crossing. I'd recommend writing these rates & times in your passage plan as they come in handy for course shaping in the last few hours, or in the event of a GPS disaster.
On my recent crossing back from Cherbourg, for example, I expected
a couple of hours easterly tide taking us a total of 1nm
then over the next full tide around 13.2nm west and
finally 7.9nm east over the final 4 hours
This resulted in a total of 4.3nm westerly tide over the 13 hours. This assumed an average through the water boat speed of 5kts (65nm ÷ 5kts = 13 hours).
Plot your Course to Steer
You can probably guess that 4.3nm of tidal drift east over a 65nm northerly passage isn't going to make a huge difference to the actual course. Every crossing is different however, especially if your making way significantly faster or slower than a typical two full tide span (12 hours) which largely cancel each other.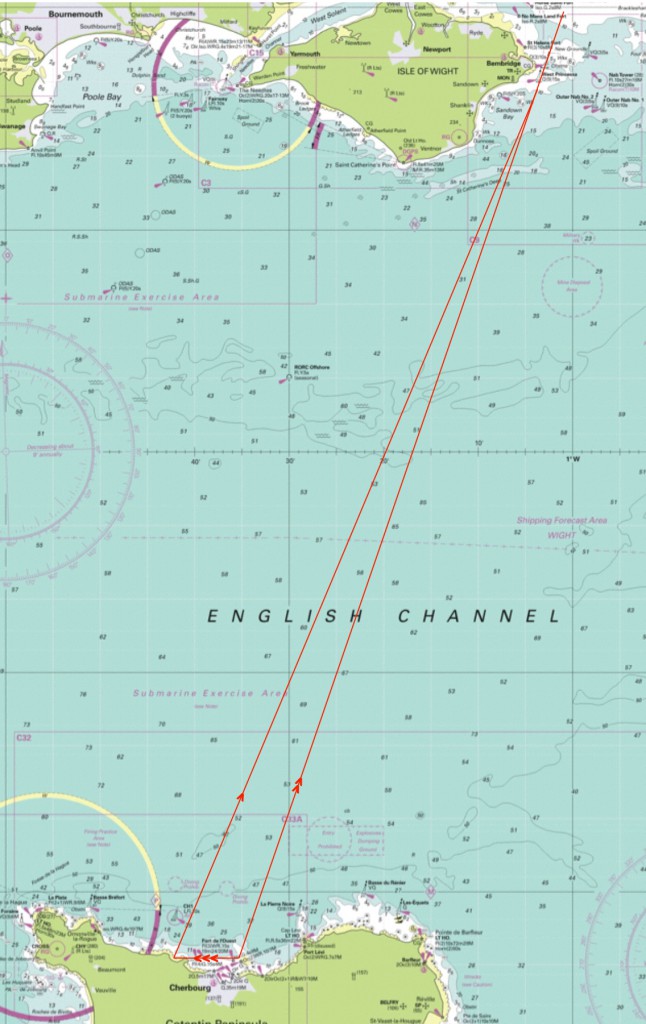 Here I have plotted :-
a ground track (2 arrows) starting from La Truite to & beyond Bembridge Ledge Buoy
a 4.3nm tidal vector (3 arrows) west from La Truite
a 65nm (13 hours at 5 kts) water track (1 arrow) from the end of the tidal vector intersecting the ground track
Measuring our water track with a plotter shows 022T and we need to adjust for variation, deviation & leeway.
Local variation is 2°W so we will add this to the true heading ("west if best"). The compass card for 024 on our yacht shows 1°W deviation at so we add this again ("west if best") to find a course to steer of 025M.
The winds forecast were reasonably light and from the beam so there won't be much leeway, say 3° (if we were close hauled it might be  as much as 10°, on a broad reach or run almost zero; much worse upwind in a heavy sea). Since the wind is coming from the east the leeway will push us west so we need to add 3° to compensate and tell the helm to steer 028.
Don't be tempted to ignore all these small adjustments. They added up here to 6°, so considering that 1° every 60 miles will result in 1 mile of error, we'd be 6 miles out around the time we start to shape our final approach. And that's over and above any helming error.
Final course shaping
This is far more important when sailing to Cherbourg than to the Isle of Wight since the tidal streams across the peninsula are so strong – they can run at 3 knots. This will make the difference between dinner at a bistro or dinner onboard.
It is therefore essential to monitor your position on a chart to check you're making the course you expected – plot your position on the chart rather than just recording a log entry.
Having set your destination for 1-2nm up tide of the Cherbourg entrance for your main course to steer, at around 2 hours from destination work through a new one. This will be easier if you time it for a HW hour boundary so you can use whole hours of drift. Now is also the time to set the harbour entrance as destination on the chart plotter and switch to the cross track error rolling road. If your calculations are right then the bearing to waypoint (BTW) and course over the ground (COG) should be the same – have your helm adjust course until they match, and note the new compass course in the log in case you need to work up an EP later.