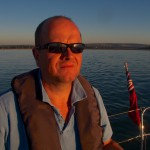 Paul Blacknell
I caught the sailing bug in 2010 and have grabbed every opportunity to sail since then. Since then my family has trained as Competent Crew and we bareboat chartered in the Ionian in 2011 & Croatia in 2014 having an outstanding time. I've competed in all the Round the Island races since 2011 (skippering in 2014 & 2017) and vow to enter in each of my remaining years. I'm a commercially endorsed Yachtmaster Offshore.
107 Articles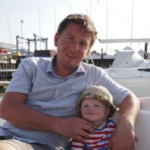 Peter May
Likes to think of himself (that's him on the left) as a really good 'natural' sailor, who could have been in the Olympics if he'd taken it up sooner – or wasn't so well packed with ballast. When not sailing, he's busy day dreaming about sailing and fantasising about his abilities thereof. Sailing history – several bare boat trips to Turkey – generally what lacks in wind is made up for with Raki and diving off the bow into gorgeous blue waters. Has also chartered several boats on the Solent, including skippering around the island in May 2012 and aboard his own restored Cutlass 27 in 2016. Sailing ambitions – Given the massively boosted confidence in Windchat following her incredible ability in the high winds and big seas of the 2016 RTIR, to sail further afield in her, hopefully soon with his first mate (pictured). Generally mucking about on boats as much as possible.
3 Articles
Andrew Keleher
I caught the sailing bug about 5 years ago after a recommendation from a friend. My wife and I really got into it at the time, and passed as Day Skippers within the year. We then spent a summer bareboating in Greece and loved it. Five years on and we now have 2 daughters. Family life packs the weekends full, and we don't get to sail as much as I'd like at the moment. However, RTIR is the exception! This will be my fourth RTIR and my only time sailing since last year's race. Looking forward to getting back onboard with the familiar crew and beating Nomad just once! Looking to the future, we do want to make sailing part of family life. And once the girls are competent swimmers, we'll be back out there at every opportunity. And the annual RTIR helps to keep the dream alive!
2 Articles