We've just returned after a long days sailing. We spent the morning moving to a different (better) boat.
We had a load of safety briefings and Lou (the instructor) showed us how to do a few things. Mum steered whilst Lou and Dad operated the sails. We sailed all the way to Cowes (on the Isle of Wight).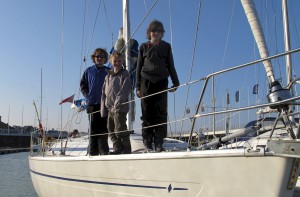 We attached the boat to a buoy where we had our lunch. Then went down a river and practiced mooring up to a pontoon. Then we stopped for good, Dad had to be careful not to smash into boats next to us!