Beaulieu for lunch was an option but realistically we'd arrive too early. The tides were in full flow up the Solent from 0800 and so we took our time over breakfast. We slipped our moorings uneventfully at 0920 and set our sails with a reef in for the beat up to and around Cowes, the wind blowing around 15 knots. Long tacks with no traffic to contend with and at times we were making around 8 knots over the ground (can't advise on boat speed due to aforementioned log problems). We made our way around the north of Bramble Bank and avoided some monstrous container ships with their moving prohibited zone.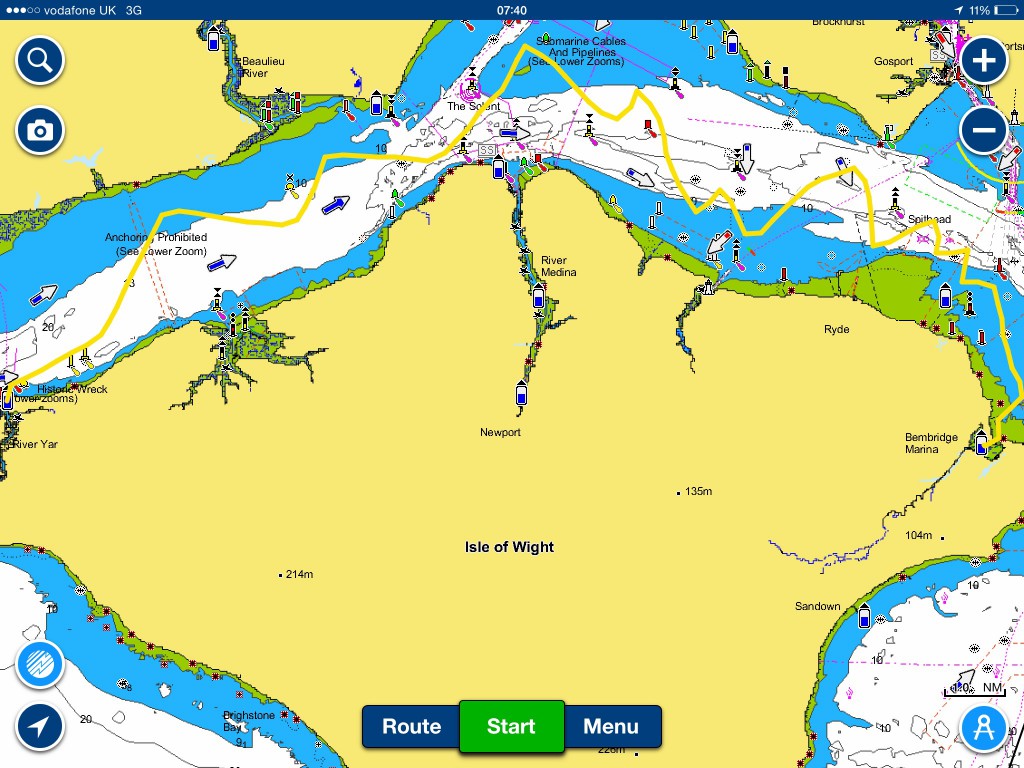 At some time approaching midday we shook the reef out and tacked our way around Ryde Sands and south of No Man's Land Fort towards our mark just by St. Helen Fort at Bembridge. We triple checked our tidal numbers and read 3.4m over the bar on the tidal gauge. On a falling tide we should have 1.5m under our keel on a falling tide. We had checked our depth gauge using a lead line in Hamble (primarily for entering Beaulieu) and had agreed we'd assume zero meant zero under the keel. It read 1.7m so either the bar moved a bit (they do) or our lead line reading in Hamble was slightly flawed (they can easily be). A couple of hours later we strolled back to the entrance to see the tide in full recession.

Bembridge was a very peaceful and picturesque harbour. It has recently benefited from investment and as well as an excellent website with a photo guide of the channel in, the harbour is being dredged and the channel is very well marked. The visitors pontoons are on your right just as you turn in and harbour master checked out draft before allocating a spot that would avoid drying. At LW the depth was reading zero but we were still slightly swinging so we weren't sinking into the mud. At Folly Reach you can sink into the mud for a couple of hours and everyone's mast stops swinging.
We walked a mile or so up to The Vines, a local pub with a loyal following of patrons and listened to Over the Hill play live. Food was decent pub grub – above average I'd say.