As crew on our outbound leg to Cherbourg I was looking forward to sitting back and letting someone else take charge. We slipped our moorings at 0445 so we could catch the strong tide and let it sweep us out of the Solent and east around the island. We hardly needed our night lights on as it was already getting light as the sun was due to rise at 0540.The wind was coming from the north-east so we would be on a broad reach on our course of 190. We put a preventer on and settled in for an 8 hour tack. The sea state was very slight but there was a slow rolling swell which started to make a couple of crew sick. They weren't too badly affected but I was glad to have taken my Stugeron (starting on Thursday with two tablets and then one every 8 hours) – I had resolved to always do this following my previous experience.
Shooting the midday sun with a sextant
Chris had brought his sextant with a view to comparing our midday position to GPS. I had browsed a couple of celestial navigation websites a while back and quickly abandoned them, deeming it too complex. It turns out to be really straightforward – at least it is with the sun. We took our sights around midday and resolved to do the maths when we were safely alongside at Port Chantereyne marina. It was only later that we realised we'd been an hour out, having misunderstood daylight savings time – most annoying as you don't get to see the real horizon very often. I've since spent a little time understanding the principles and it's not that difficult at all.
Having a go with the spinnaker
Although the spinnaker pole on Nomad 1 had been stolen Lou was keen to see if we could fly it without. The wind was light enough that we could try (none of us very experienced to be honest) and so we gave it a go. It was easy hauled up and did indeed catch the wind but we were unconvinced it was making much difference to our boat speed. A new cruising chute has since been ordered so we should have this in time for the Round the Island race in June.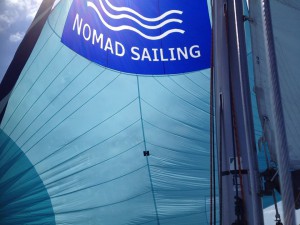 After about 10 hours, the wind was definitely dying down and we opted to motor sail for a couple of hours and then dropped all the sail for the final two hours. The tides were running east to west and we used the cross track error to fine tune our course to the outer harbour entrance – actually there was around 30° difference between COG and BTW for the Roches du Nord-Ouest waypoint.
Dinner at le Pommier
It was getting late and we didn't fancy wandering around Cherbourg so we took a chance and phoned Le Pommier as mentioned in Tom Cunliffe's Channel Pilot. The food was absolutely excellent and very reasonable at €30 for two courses including plenty of wine. We couldn't be sure the restaurant hadn't changed hands since publication but as it turned out there was no mistaking the photograph of the proprietor.
Log entry. 3.5.12 Nomad 1 Jeanneau Sunfast 37′. Crew. Gosport-Cherbourg. F3. Slight. Good. 79NM tidal. 1 night hour