A beautiful day sailing across from Poros in Kefalonia to Nikolaos Bay on the NE coast of Zakynthos this afternoon.
We started the day waking to total silence in the anchorage on Ithaca and grabbed some breakfast. Harry and Joe were off the pulpit to retrieve the shore lines and once back on board Tom '1 good hand' Blacknell pulled up the anchor (read about his accident here).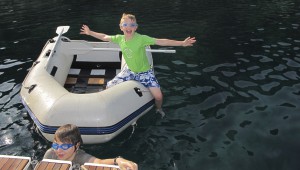 We motored in characteristically still waters (mornings seem always calm) over to Poros where Helen & I holidayed for the first time 23 years ago.
After lunch we were onto more exposed seas and the afternoon winds picked up. A lovely close hauled tack almost all the way then a couple of final tacks into our target bay – about 2½ hours sailing. Max speed was taken by Tom on the helm at 7.88 knots and we had around 20 knots of wind. Arriving at 6.30pm is not a good idea as the moorings were pretty much taken and after an aborted attempt to back into the ferry's spot we moored alongside the quay.