Firstly we had to get up at four o'clock in the morning to catch a flight at Gatwick. When we were there we ate breakfast at a nice cafe and I had a kids cooked breakfast.
Soon we had to get on the plane, it was really good. I listened to music on the plane and watched half of Gulliver's Travels on the built in TV's. When we arrived we got off and got on a coach to head for the marina. At the marina we found our boat and had a look around. Then went shopping and then went to a café were I had a Sprite and that was basically my lunch.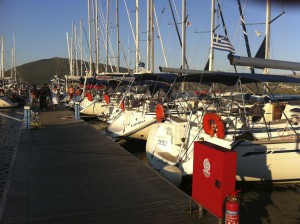 When we got back to the boat, we had a bit of chilling, then went to a cool place for dinner were I had a big portion of spaghetti and tomato sauce which was so big I couldn't finish it. When we got back to the boat we put sheets on our beds and tried to get to sleep. Soon I had to rest on the sofa and I then went to sleep very quickly as there were lots of open windows in the saloon.