We collected the yacht at around 4pm and as usual it took us ages to load up all the stuff we brought that we won't need. We were met by Paul who gave us a handover on key systems such as lifting keel, bow thrusters etc.
The boat is, I have to say, in a different class to the Bavarias we're used to. The raised saloon and long windows mean you can sit at the table and take in the view. The build quality is extremely impressive and also lots of attention to detail. They've also spent a fortune on the navigation equipment including flux compass which means the chartplotter displays  true wind indication along with tidal set & drift. It's also more obvious how heading & bearing relate when navigating towards a way point. It took me a while to figure out the chart plotter but it's pretty cool – fish finder won't come in useful even though we brought our tackle. Biggest disappointment is the radar isn't working as I was looking forward trying it in clear weather.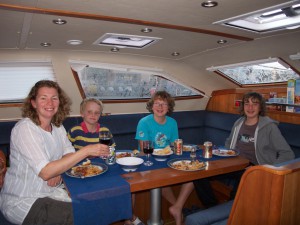 We needed to refuel on the pontoon opposite and opted to meet Paul there for obvious reasons. We moved slowly forward out of our berth but the wind was really pushing us to the right and I was really shocked as how sluggish the steering felt. I opted to come out of the marina slightly and then come back in on a fresh approach.
After refueling we left Lymington and, as was already apparent, the wind was definitely blowing. The windex was showing about 25kts but the sea state was pretty much okay. I ruled out the last remnants of thought about getting the sails out with my young crew.
It only took us about 45 minutes and on arrival at Yarmouth we were asked to raft up alongside a 45 Grand Soleil. They were very accommodating and it went without a hitch. I briefed the boys on rafting etiquette and they were keen to look after some of the final jobs such as shorelines and shore power.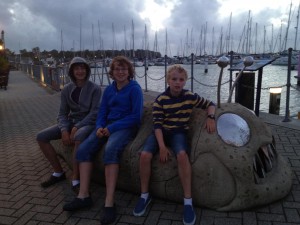 We enjoyed a fabulous meal at Saltys and wondered why it's so rare to fine top quality cooking more frequently.
Miles logged 4.