After many an hour, and beer, we finally admitted defeat – the red colouring on windguru meant heading for Cherbourg, especially given the inexperienced crew, would be madness. The surprising thing was, every beer consumed seemed to somehow re-ignite the debate! Fortunately for all, sanity won out.
Thus, the following morning, grey skies above, shrouds clanging, heads clearing slowly, we decided to head for Weymouth instead. Given the NE'erly forecast, and the favourable tide, we were expecting a smooth and swift journey. We got what we hoped for – a solid beam reach – getting a tad close down the Needles Channel, but luckily Lou and Phil decided to stop mucking about with the spinnaker pole and foresail by this point.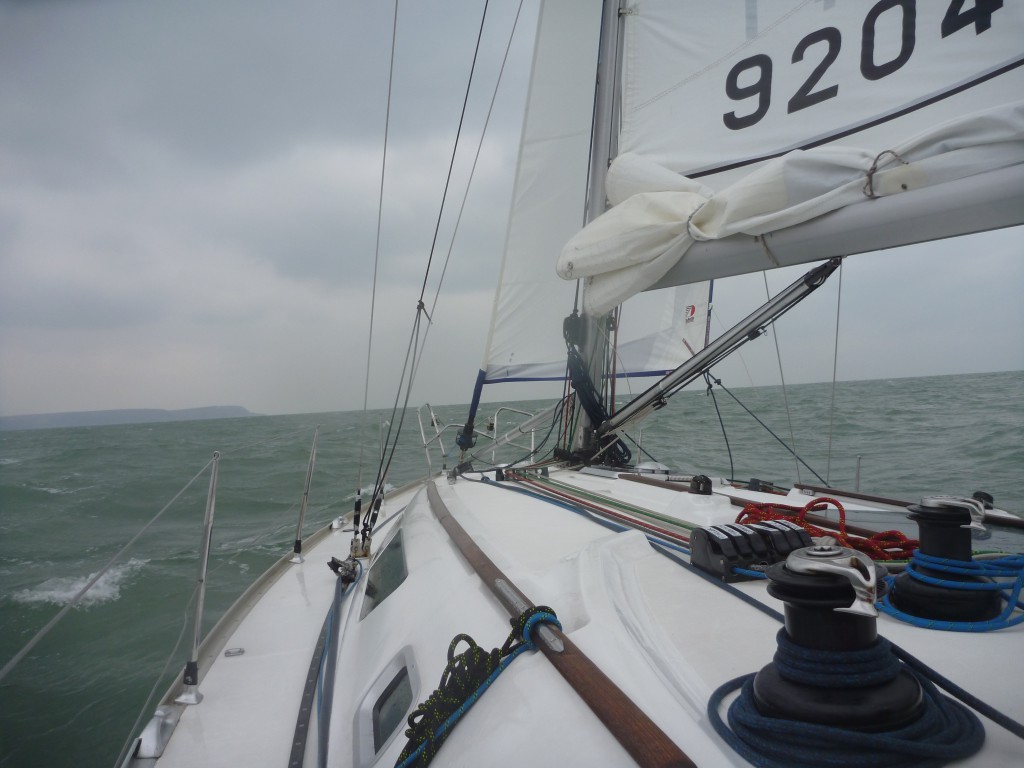 Six hours later, and apart from a small bit of chop round Anvil Point, we were tied up to the harbour wall and in the pub, again – Guinness flowing.
The following morning was a sedate affair – though the NE'erly hadn't relented, thus shrouds were still clanging and the ears were feeling it when pointed windward. Given Windguru had not changed it's mind (NE, F7-8), we all suspected the trip back might be a tad livelier than the sedate reach here, so we got preparing and planning early. Gloves, thermals, more thermals ("I thought it's April!?"), more socks….
For some strange reason we had all decided we'd like to make the journey back more 'fun' by doing some night sailing – despite the forecast air temperature being zero that night. Thus the plan was to slip at a very civilised lunchtime, use the tide to help us make the 20 or so nautical miles to Chapman's Pool, anchor up, have dinner, then slip away once darkness had descended and tide turned back in favour. This part of the trip was also very attractive – the Jurassic Coast not failing to wow us all.
We arrived at Chapman's Pool as expected – textbook – entering the small bay (taking note of the rocks to the starboard on way in), dropped anchor, she bit first time, Lou fired up the hob in preparation for a mighty spag bol.
In hindsight it was about now that things started to take adopt a slightly different feel. Having gone for a lie down in the fore'stle, with the hope of resting before the long night ahead, I couldn't help but notice the scenery (through the hatch) was whizzing around like some kind of computer game – with a snapping sensation every now and then which sent the scenery whizzing in the other direction. This along with the increasing onion fumes did not bode particularly restful. About 10 minutes was the lot – fresh air was needed.
Step 2 of things ramping up – as I poked my head out of the companionway, realising that our stern was in fact quite quickly drawing out a semicircle round Chapman's Pool, I got a face full of snow! "It's April!?!" and there was a blizzard being blown over the coach roof! I quickly decided onion fumes were the better evil.
The eight of us (trainee skippers Peter x 2, skipper proper Lou, first mate Matt, Uncle Andrew, 'whisperer' Brian and the dynamic father & son team Phil and Nick) consumed enough slag bol to keep us going, then ate some more, then put about 13 layers of clothing on. This took a suitably long enough time that all whiffs of light had past from the sky – we stepped up into the cockpit to begin our night sail, hoping to get back to Gosport in time for some shut eye before tomorrow appeared in earnest.
It was very dark – not helped by the icy wind making your eyes water within seconds of turning anywhere near into it. We all instantly regretted not taking more notice of where the aforementioned rocks where on the way in. Armed with a couple of watchmen (and very powerful torches) we slowly lifted the anchor (which thankfully, and somewhat surprisingly, had remained in the same place) and eaked our way out of Chapman's Pool.
The echo sounder dropped to 0.5m at one point, which didn't help calm nerves – although the increased heart rate did lead to a rather pleasant rush of warmth. Having successfully got clear of the bay, we turned homeward (east), straight into the wind, and got out the pair of reefed handkerchiefs that we all decided was going to give us enough drive. We weren't wrong. Nomad flew along, with tide being pushed along the coast, we were making great tracks, and although it was a little 'fresh' it was also a very clear night – the next 3 hours passed in a joyous sail, with lots of open mouthed gazing up to the stars, and the occasional tack to warm the cockles.
Step 3 of things ramping up – we got back to Anvil Point, and the little wavy white lines on the chart came flooding back to mind. Without really noticing anything particularly change, we were all no longer looking star ward, more holding on while the bow slammed into 5-6 foot waves, and concentrating on avoiding the frozen wash stinging ones eyes.
Next, the shackle holding the main sheet very nearly came clean off – closely avoided by some repairs by Uncle Andrew. Then, the biggy – finally we were approaching the Needles Channel, with communications being relayed via four people to enable the helm to hear over the wind, and the nav lights start to flicker – all power starts to fail on the boat!
We fire up the engine, lights resume normal operation. We continue to try and get into the channel (it was a long time coming, despite the night air making the Needles look very, very close indeed at one point!). Next, the engine overheating alarm goes off… it hadn't primed properly thus wasn't sucking in any water… cut the engine. Lights start to fail again. By this time (about 0200) we are at least in the channel and feeling like we're getting somewhere.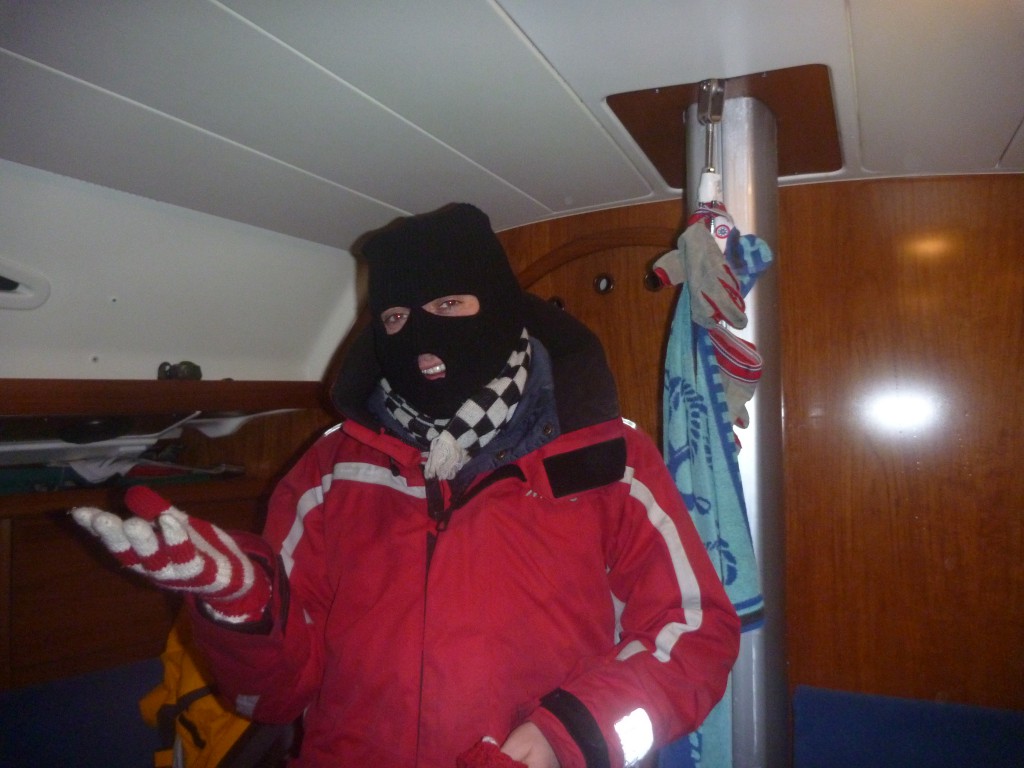 By this time Peter M was the only person capable of helming, for the simple reason of mittens! Luckily he'd bought some a few days before the trip, and thus could actually stand in the wind. One temporary skipper was unfortunately busy decorating Nomads interiors with the aforementioned spag bol while one other crew member relayed instructions that Lou was yelling from the chart table. The rest were huddled like Emperor penguins in the cockpit – only looking colder than penguins.
Two hours later we finally made the top of the channel and with lights fading again we decided to head for the nearest port, Yarmouth. Glancing back over our dull starboard quarter we noticed a rather large tanker had just shot up the Needles Channel in no time at all. We were relieved it hadn't appeared a few hours earlier.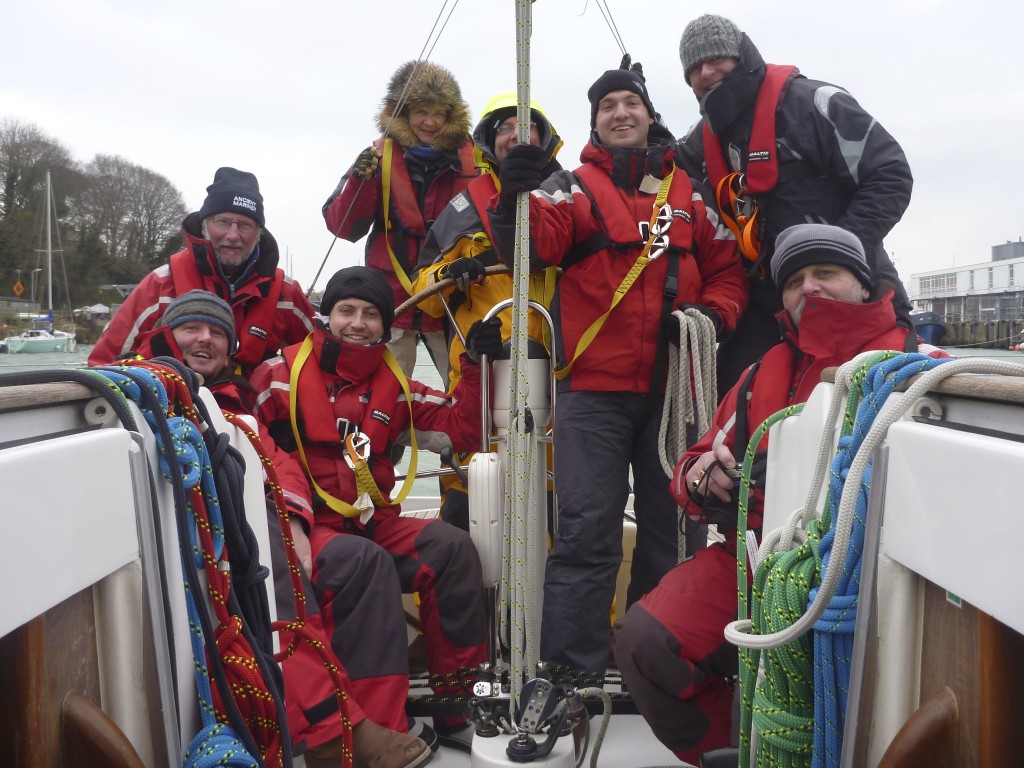 Yarmouth looked nothing like Yarmouth, and with a very tired helmsman proved quite a challenge to get into. Lou finally convinced all of us that we were in fact going into Yarmouth, and was very soon finishing off the close quarter manoeuvre herself after Peter very nearly rudely awoke several proud yacht owners. At around 0500 we were finally tied onto something solid. A beer whilst lying on the jetty was badly needed; followed very closely by bed.
What we learned… don't under estimate the cold. Shifts are a good idea, but only when being below is tolerable. Working engines and lights are important. Mittens (Seal Skinz come highly recommended!!) are a good idea. You can never trust April weather. Cold beers on the jetty aren't a great idea after such an ordeal.
4-Apr-13. Nomad 1 Jeanneau Sunfast 37′. Skipper. Gosport to Weymouth. F5-6. Rough. Good. 63NM.
5-Apr-13. Nomad 1 Jeanneau Sunfast 37′. Mate. Weymouth-Yarmouth. F7-8. Poor. 6 night hours.
6-Apr-13. Nomad 1 Jeanneau Sunfast 37′. Crew. Yarmouth-Gosport. F6. Moderate. Good.