The weather forecast last night didn't hold out much hope for making it over to Poole which was a real shame. It was looking like hanging out in Yarmouth and then possibly Poole tomorrow. The inshore forecast was W/SW 5-7 veering N 5-6 decreasing 4-5 later. I switched on the windex and monitored the wind – albeit in the harbour – and it was generally about 4-5. I also checked Windguru which was reporting lower winds forecast across from Lymington/Yarmouth, Christchurch Bay, Swanage and Poole.
There would be no point leaving before the tidal gate at the Needles anyway which opened after 1030. So we sat down to a leisurely breakfast and pondered what do to. Mid morning and decision made.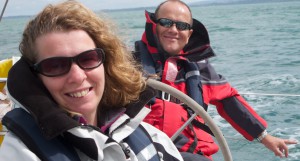 We slipped from our rafting at around noon and had the sails up in the Solent once clear of the harbour. Harry did a great job, as always, helming us to wind why Helen, Tom & I sorted out the sails. They went up really easily and it was great having all the lines lead back to the cockpit including topping lift which would be a right pain from the mast since we wouldn't be able use a winch.
I also decided against using the Needles channel and opted for the North channel. With very strong springs tide I didn't want any risks of wind over tide even though it was definitely WNW rather than the more dangerous S or SW. This also gave a more favourable tack as we would have been further south and sailing much more into the wind.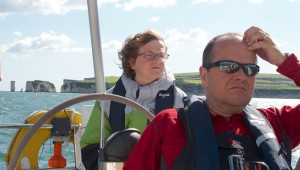 The sailing was fabulous and we managed it mostly on the same starboard tack. Everyone took 30 minute shifts on the helm and we had occasional tacks just to bring us back up towards our desired track to Poole Bar No.1 buoy. Tacks were ridiculously easy with the self tacking jib and we made it to our way point in around 3 hours.
Miles logged 21.