This article is part 1 of a series on what's involved when navigating across the English Channel and outlines what needs to be considering in deciding on your departure time.
Determine your departure time (which often depends on when you want to arrive or when you must arrive by)
Estimating the net tidal set and drift you'll experience during the crossing
Applying tide, variation, deviation and leeway to determine your course to steer
Final course shaping a couple of hours before arrival
Deciding on a departure time
The main factors determining when you need to leave comprise one of more of the following
Your desired arrival time (perhaps late afternoon so there's plenty of time to be ready for dinner ashore)
A tidal gate you want to avoid or leverage that will make a big difference to your speed over the ground
Lock/bridge/sill opening times that offer no compromise as to when you can enter
Often it's as simple as when you want to get there!
In the straightforward case of sailing to Cherbourg which is an all weather, all states of tide port, this is a combination of what time you want to arrive (for dinner or to arrive at dusk) and also taking advantage of tidal assistance to help swing you around the Isle of Wight. It's also worth allowing for a couple of hours for unanticipated delays, or at least not being overly ambitious on anticipated boat speed.
Tidal gates expected during the passage
For most other destinations then a tidal gate is likely to impose a much stricter arrival window. For example, when sailing to the stunning port of Honfleur in Normandy, the tides in the Chenal de Rouen run very strong (as high as 5 knots). You really want to time your arrival at the RNA safe water mark around or shortly after low water to take advantage of the flood (there's still 12NM to go!)
St. Vaast, Port-en Bessin and other ports on the Normandy coast have a lock that operates in free flow for a few hours around high water, so accounting for delays on passage, you should time arrival to perhaps an hour before it opens.
Tidal streams at departure or on arrival
When returning home to Portsmouth, I try to avoid the strong ebb out of the harbour which starts at HW+2 and is easy to check in the Admiralty Tidal Stream Atlas for the Solent and Adjacent Waters. Likewise, the tidal streams around Bembridge can give you a helping hand from around HW-2.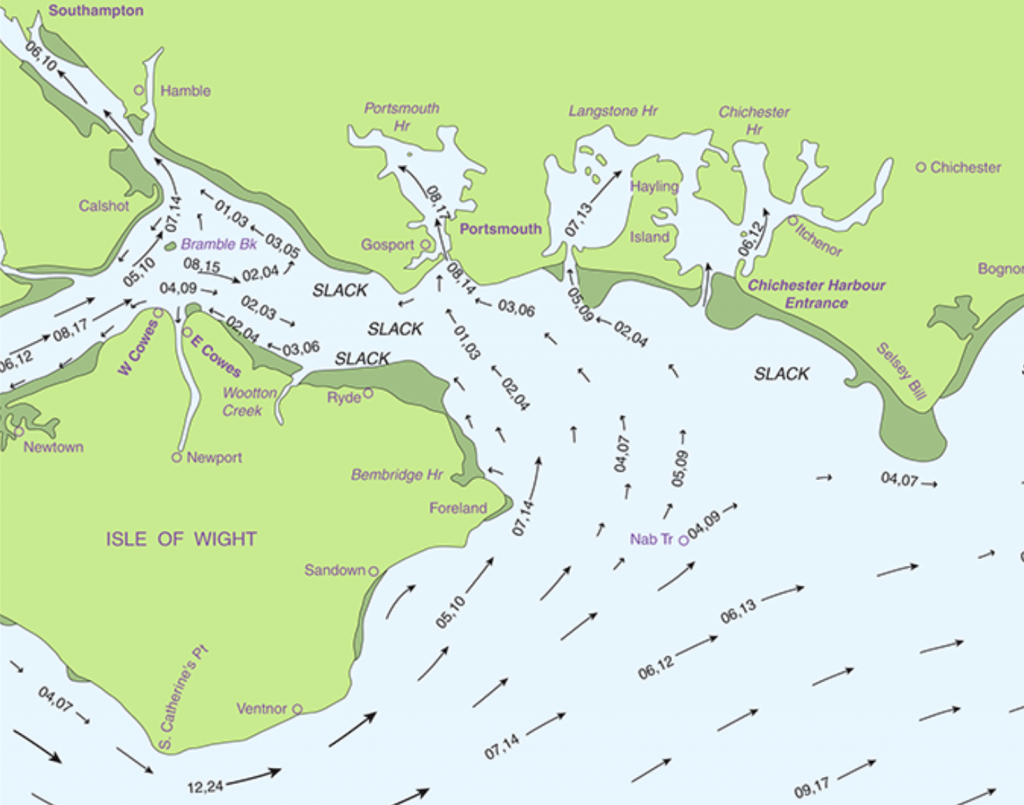 As an example, working back from our planned arrival
We want to arrive in Cherbourg at around 1500
The main passage from Bembridge to Cherbourg is largely unaffected north/south by tides and will take 13 hours (65 miles at 5 knots) so we should aim for Bembridge at 0200
1½ hours pilotage from Portsmouth to Bembridge gives us a planned departure from Portsmouth at 0030
Checking the Admiralty Tidal Stream Atlas for the Solent and Adjacent Waters, we see that the tide going out of Portsmouth harbour is going slack but not particular helpful in getting to Bembridge
We stick with 0030 as our departure time
Having worked out your ideal departure time, the next step is to look at the effect of tides east/west during our 13 hour passage.